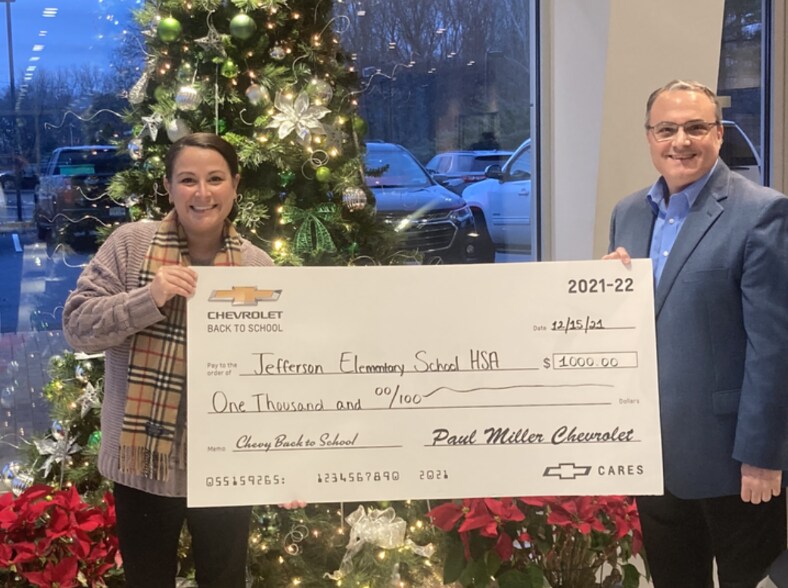 We understand that the last couple of years have been tough on our educators and schools. With COVID, cutbacks, and hiring struggles, it's amazing that our local elementary school has pushed through and done as well as they have. To help the teachers, staff, and students continue to excel in our West Caldwell area, we wanted to donate some money to put towards their school goals. Partnering with the Chevrolet Back to School Program, we were able to donate $1,000 to Amy D'Ambola and Jefferson Elementary HSA.
Paul Miller Chevrolet Loves Our Community!
Our Paul Miller Chevrolet dealership loves to give back to the community that has always welcomed us. While this is only a small representation of the appreciation that we have towards our elementary school workers, we hope that it helps in some way. Angelo Zito, the man in the photo above, was honored to present the $1,000 check to Amy D'Ambola (also pictured above). We hope to continue assisting the educators in our area, especially with the help of the Chevrolet Back to School Program.
Contact Paul Miller Chevrolet to Learn More About Our Community Efforts
If you'd like to know more about our Paul Miller Chevrolet dealership and our community programs, don't hesitate to contact our team today! We have many community programs in place that assist people in the West Caldwell, Clifton, Livingston, NJ, and beyond areas. We'd love to have you take the short drive from Morristown, Little Falls, or Paramus to talk to our team today!